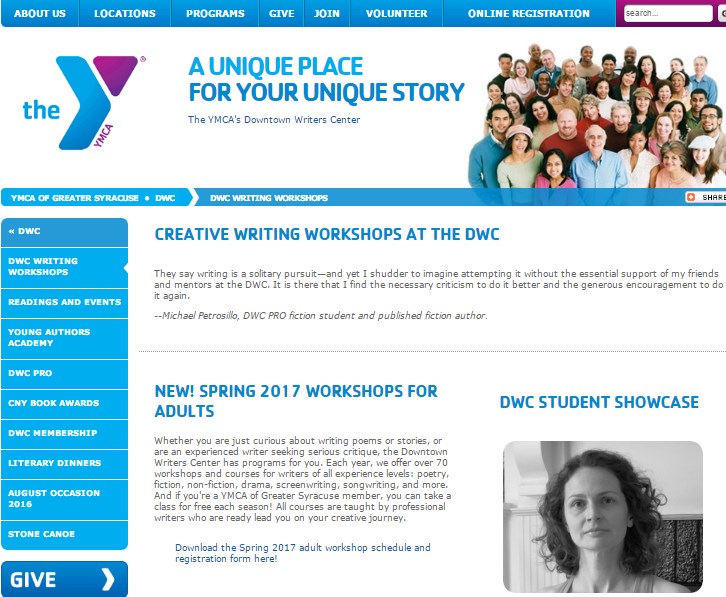 I'm thrilled to share the news that I'll be teaching two eight-week creative writing workshops this spring at The Downtown Writer's Center in sunny Syracuse, NY — a Monday night workshop on the lyric essay and a Wednesday night poetry workshop focusing on the line. Both classes begin the third week of April (see the class descriptions below). Registration is inexpensive and open to the public. To learn more about The Downtown Writer's Center, download the spring class schedule, and register for these workshops, visit the Center's website HERE. Feel free to share with anyone who might be interested!
The Lyric Essay with Christopher Citro. Mondays, 6:00-8:00. 8 weeks, starting April 17. "The lyric essay partakes of the poem in its den­sity and shapeliness, its distillation of ideas and musicality of language. It partakes of the essay in its weight, in its overt desire to engage with facts"(Tall & D'Agata). In this class we'll explore this exciting hybrid genre, using prompts drawn from our reading to inspire new work.
Listening to the Line with Christopher Citro. Wednesdays, 6:00-8:00. 8 weeks, start­ing April 19. In this workshop, we'll explore what contemporary poets are doing with the free verse line, how they use line breaks, the tension be­tween the sentence and the line, and more. We'll use prompts drawn from our readings to inspire us to experiment and grow in our own writing.