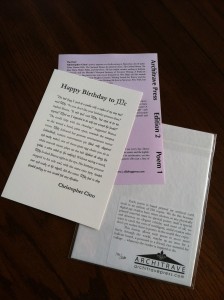 Architrave Press has just published my poem "Happy Birthday to Me" as a limited edition broadside of 250 copies. If you don't know, a broadside is a single sheet of paper, basically a poster, printed on one side. This is the first one I have ever had published. And yes, I am psyched.
Architrave Press is located in St. Louis, MO, and publishes poems as individual broadsides (5.5″ x 8″ 100lb archival card stock) which are letterpress printed the old fashioned way. They are sold individually or in series. My poem is the first one in Edition 2.
You can read my poem online for free HERE.
If you want, you can buy a broadside (simultaneously blowing my mind and supporting a fantastic new press) by going HERE. It costs $3.50, S&H included, via PayPal.
If you're feeling particularly frisky, you can purchase the entire Edition 2, which includes mine as well as wonderful poems by gaye gambell-peterson, Michael Bazzett, Michael Hettich, Kejt Walsh, Meagan Gamble, Claudia Torres, Shane Seely, Ray Holmes, and Kristen Elde., for $27.50 HERE.